"About 40% of all commercially prepared yeast breads in the United States is in the Soft Breads Family." Michael Kalanty
SOFT BREADS
At The Bronwood Bakery, we have some of the best. You don't have to know baking to know good taste! Many of our soft bread products begin with our signature "basic" dough formula that utilizes Muhammad Farms Premium Whole Wheat Flour. We keep building on a good thing by adding Organic Flour, Water, Dry Yeast, Whole Milk, Butter, Honey, Natural Sugar and Kosher Salt. Some professional bakers use pan spray during the development and proofing stage. At The Bronwood Bakery, we simple use a little Grape Seed Oil. Products are topped with butter, cooled, packaged and shipped to you.
Honey Whole Wheat Rolls

Hand rolled, these pull-apart rolls are loved by children, and ADULTS TOO! Price: $5.00/dozen.

Honey Whole Wheat Sandwich Loaf

A Standard commercial loaf uses 1 to 1 and ½ lb of dough when forming sandwich loaves. At The Bronwood Bakery we give you a little more dough for your dough (lol) with our big head breads. Price: $5 loaf. (We are currently selling our loaves at $4.00 unsliced.)

Mini Sub Rolls and Burger Buns

Same quality, different shape! Price: $6 / 8pk.
Honey Whole Wheat Cinnamon Raisin Loaf

A hit from the beginning. Made with quality cinnamon, raisins and brown sugar. Price: $6 / loaf. (We are currently selling our loaves $5.00 unsliced.)

Yum Yum Honey Buns

We added some extras and changed some percents in our "basic" dough formula to make sweet and savory treats. Here's a Sweet Treat – Get your coffee, milk or tea, because they're better together! Muhammad Farms Premium Whole Wheat Flour, Organic Flour, Whole Milk, Dry Yeast, Eggs, Butter, Pure Honey, Natural Sugar and Kosher Salt. Hand rolled with cinnamon and brown sugar. Glazed with powdered demerara sugar, butter and flavorings. Price: $13.50 half dozen – $25/dozen

Stuffed Cheesy Breadsticks

Savory Treat – Stuffed Cheesy Breadsticks: (currently a local only product) Boy-o-Boy! Try eating just one of these! ADDICTING, I kid you not! Tender sticks stuffed with a wonderful savory cheese and veggie filling. Dip them in your favorite marinara or just munch on them right out of the bag. Unbelievable flavor! Warm them just a bit to awaken the pungent blue cheese, tangy kalamata olives and sweet caramelized onions. Ingredients: Muhammad Farms Whole Wheat Flour, Cornstarch, Organic Flour, Whole Milk, Dry Yeast, Grape Seed Oil, Natural Sugar, Butter, Kosher Salt, Blue Cheese, Mozzarella, Caramelized Onions, Kalamata Olives, Fresh Garlic, and Fresh Basil. Price: $15/dozen
"It is difficult to buy a sourdough bread that isn't flavored with vinegar or a variety of chemicals to simulate the real thing."Ed & Jean Wood
"Fermentation is a form of making food more nutritious and more digestible."Eduardo Morrell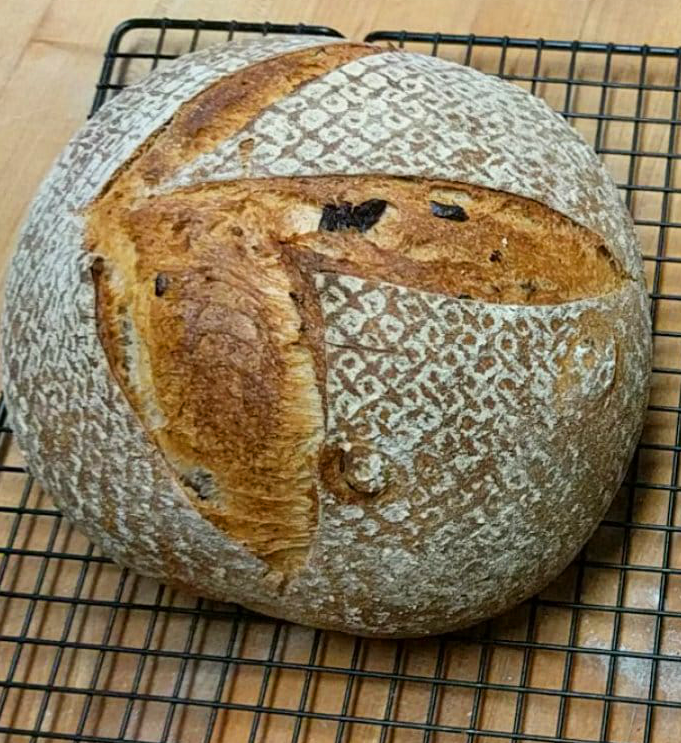 SOURDOUGH BREADS
Our sourdough products are made using our Bronwood Bakery "distinctly nutty" Wild Yeast Starter and do NOT contain any dry yeast! Our Artisan breads are baked in cast iron dutch ovens or directly on baking stones. Our smaller rounds and standard loaves, such as our sesame loaf, are baked in our large convection ovens. Not only is sourdough bread more nutritious and better for your digestive system due to its long fermentation process, better than soft breads containing dry yeast, it tastes GREAT! Toasted or just plain, jazz up that sandwich with these great tasting Sourdough Breads. As with all of our baked goods, we start with Muhammad Farms Premium Whole Wheat Flour. For our Sourdough breads we use Muhammad Farms Premium Whole Wheat Stone Ground Bread Flour, Organic Flour, Water, Extra Virgin Olive Oil, Pure Honey, Kosher Salt,
That's it! –
Artisan Rounds and Free Form Loaves

Loaves are baked on a stone or in cast iron dutch oven. Price: $6.00/loaf

Olive Rosemary

This sourdough artisan bread has tangy kalamata olives and fresh rosemary added. Price: $7.00/loaf

Sesame Sandwich Loaf

Topped with sesame seeds. Price $6.00/loaf
Grill It! Toast It!

You won't believe the crunchy outside, soft inside.

Slice It!

Get your serrated knife ready.

Did you say grilled cheese?!

Makes the Best!
---
Some More Good Stuff!
---
---
BEAN PIE!
Small White Navy Beans, Butter, Natural Sugar, Whole Milk, Eggs, Muhammad Farms Flour, Cornstarch, Flavorings and Spices. Crust – At this time we are using a 9" ready-made kosher crust. Our goal, produce our own pie crust utilizing Muhammad Farms Whole Wheat Pastry Flour.
Price: $10 whole pie
(not available for mail order)
---
---
Yes, Cereal, so it's sweetened to be just right when you add milk. But you can eat it as a yogurt topper or however you like! Delicious granola cooked to perfection and then frosted with powdered Demerara Sugar. Old Fashion Oats, Muhammad Farms Premium Wheat Bran, Brown Rice Crispies, Raw Pumpkin Seeds, Raw Sunflower Seeds, Flax Seeds, Honey, Unsulphured Molasses, Coconut and Grape Seed Oils, Kosher Salt, Egg White, Flavorings, Spices, Raisins and Dried Cranberries.
Prices: Half-pound cello pack $5.00 (2+ servings)

Bulk quantities $8.00 per pound
---
MUHAMMAD FARMS CRACKERS
These unbelievably yummy, Zesty Herb Sourdough Crackers are simply delicious and you cannot eat just one, or two. Pay attention because it's disappointing when you reach in the bag only to discover that great taste did not last forever. What makes our crackers unique? Not only are they made utilizing Muhammad Farms Premium Whole Wheat Flour and Bronwood Bakery's unique Sourdough Starter, our crackers are jazzed up with Urban Blends, "Stylin Italian" custom blended seasoning. We've also included organic flour, butter, salt and a few more spices. Add a light brush of grape seed oil and coarse salt, then let your taste buds do the rest!
Cheez It lovers, this is definitely a healthier choice.
Price: Quarter-pound cello pack $4.00
After striving to meet the demands of our cracker lovers, we have determined the quality of this product is better maintained in small batches. At this time, only small packs are available. Thank you for your patience AND your continued consumption!
ALL pics are of actual Bronwood Bakery products.